The draw for the first round of Champions League knockout games for the 2018/19 season threw out some exciting fixtures. Current holders, Real Madrid will take on a resilient and youthful Ajax side while Manchester United, now without Jose Mourinho, will face PSG. Here is a game by game preview for each of the eight ties. 
Roma – Porto (12/02, 06/03)
Group D winners, Porto will take on Group G runners-up, Roma in the first knockout game of the season. Both clubs were also in the knockout stages of the Champions League last season with Liverpool knocking both out in the Round of 16 and semi-finals respectively. Roma, who were very impressive in the Champions League last season will be favourites despite not being seeded. However, Porto is playing good football and went undefeated in the group stage boasting the highest points tally (16) in the competition. It's a tough tie to call but I predict Roma to prevail. They have a very solid defence and with the firepower of Edin Dzeko up front, they won't struggle for goals. Porto does have an impressive front line and managed 15 goals in their 6 group stage games, they won't have it that easy against the Italian giants.
Predictions: Roma 2-0 Porto, Porto 1-1 Roma. (Aggregate 3-1 for Roma)
Manolas celebrates his incredible goal against Barcelona in last year's Champions League (The Independent)
Manchester United – Paris Saint Germain (12/02, 06/03)
Following the appointment of Ole Gunnar Solskjaer as Jose Mourinho's replacement, Manchester United will hope to adapt to his new style before their huge clash against the French giants. PSG topped Group C ahead of both Liverpool and Napoli scoring an impressive 17 goals. Manchester United must find a way to neutralise PSG's attacking threat because the likes of Chris Smalling, Phil Jones and even Victor Lindelof will struggle against Mbappe, Neymar and Cavani. Angel Di Maria will also be hoping to prove a point on his return to Old Trafford but if Solskjaer can get the likes of Martial, Lukaku and Pogba firing then PSG may struggle, especially on the away leg. I expect PSG to win but I don't think they'll have it as easy as some might expect, there's lots of quality in the Manchester United squad but perhaps this tie will come too soon in Solskjaer's reign.
Predictions: Manchester United 1-2 PSG, PSG 3-1 Manchester United. (Aggregate 5-2 for PSG)
Back to their best? Will we see Pogba (L) and Martial (R) in form against PSG in February? (Sportskeeda)
Tottenham Hotspur – Borussia Dortmund (13/02, 05/03)
Two clubs that are both on the rise and playing exciting, attacking football will come head to head in a thrilling Round of 16 tie. There's no clear favourite in this one and both sides will really fancy their chances at booking a place in the Quarterfinals. Spurs have been in good form recently, they got a draw away at Barcelona and knocked Arsenal out of the Caraboa Cup midweek. Dortmund on the other hand just suffered their first domestic loss of the season but remain 6 points clear at the top of the Bundesliga. It's definitely a hard one to call but I think Dortmund have the European experience and will also benefit from a terrific atmosphere in the second leg.
Predictions: Spurs 1-0 Dortmund, Dortmund 2-0 Spurs. (Aggregate 2-1 for Dortmund)
Dortmund players thank their fans after a memorable 4-0 crushing of Atletico Madrid (Malay Mail)
Ajax – Real Madrid (13/02, 05/03)
The current holders, Real Madrid are definitely one side that Ajax would have been hoping to avoid at this stage of the competition however that says nothing about their chances. Ajax has played some exciting, fearless football in recent weeks, most notably against Bayern Munich where they got a 1-1 draw away and a thrilling 3-3 draw at home. They've shown what they can do to a team like Bayern and putting 4 past the likes of Boateng, Sule, Alaba and Neuer is no easy task. Real Madrid, on the other hand, has struggled and while they topped their group, they were humiliated 3-0 at home against CSKA Moscow on Matchday 6. It's a tough one to call but Ajax and their young players have a point to prove and I think they'll actually cause one of the great Champions League shocks.
Predictions: Ajax 2-0 Real Madrid, Real Madrid 1-0 Ajax. (Aggregate 2-1 for Ajax)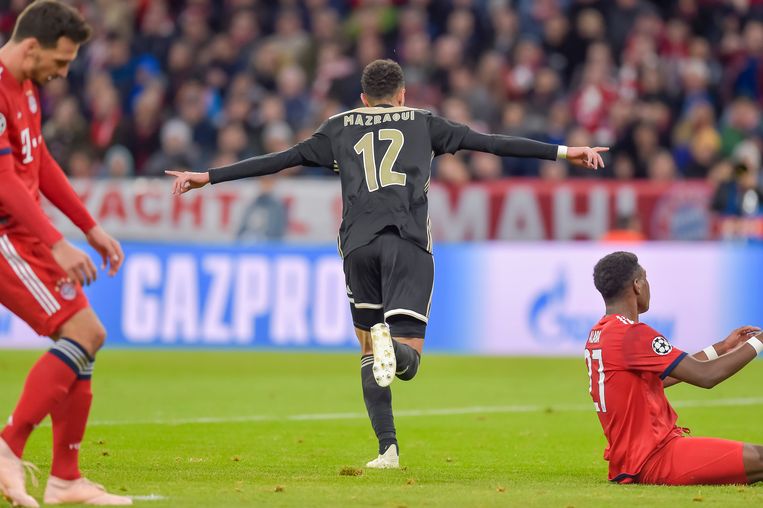 They've done it before, could Ajax cause another European upset? (Volkskrant)
Olympique Lyon – FC Barcelona (19/02, 13/03)
Lyon had a very strange group stage of the Champions League, after beating Manchester City at the Etihad they went on the draw all five of their remaining games finishing 2nd in the group. Barcelona was in a tough group alongside Tottenham and Inter Milan but they managed to top their group with 14 points and no losses. Lionel Messi has been in sensational form recently and will once again be the key man against Lyon but the French side definitely stand a chance against the Catalan giants. The likes of Nabil Fekir and Tanguy Ndombele will both look to worry Barcelona but it won't be easy. I think Barcelona will go through and they're my favourites to win the whole competition.
Predictions: Lyon 0-2 Barcelona, Barcelona 2-0 Lyon. (Aggregate 4-0 for Barcelona)
Ivan Rakitic putting in an early contender for goal of the season away at Wembley (The Independent)
Liverpool – Bayern Munich (19/02, 13/03)
Last season's runners-up, Liverpool, will look to put the horrors of Kiev behind them as they head into a much more challenging knockout stage than they had last season. The current Premier League leaders have been in fine form domestically but have struggled much more on the continental stage. They lost all 3 of their away matches including a shock 2-0 defeat in Belgrade but did win all 3 home games with impressive performances against PSG and Napoli. Meanwhile, Bayern had a rather easy group but struggled both times against Ajax. They topped the group undefeated with 14 points but continue to struggle to catch Dortmund in the Bundesliga. I think this will be a very close tie but I think if Liverpool can get a huge result at Anfield, they'll have Van Dik (one-game suspension) back for the second leg in Munich.
Predictions: Liverpool 3-1 Bayern, Bayern 0-0 Liverpool. (Aggregate 3-1 for Liverpool)
Roberto Firmino (R) came off the bench to score the winner against PSG at Anfield earlier this year (ITV)
Atletico Madrid – Juventus (20/02, 12/03)
Another huge tie that has come out of the Round of 16 draw will see two European heavyweights lock horns. Cristiano Ronaldo will return to Spain once again and has already been in good form for the Italian giants this season. Atletico will know all about him though, and with one of the best defences in the world, they'll definitely make life difficult for Juve. However, Juve also have a good defence so this game will surely come down to which team can be most prolific and clinical in attack, take their chances and then shut out the opposition. Defensively, both sides are very similar but I think Juve have too much talent going forward and Atletico won't be able to completely shut them out across both legs.
Predictions: Atletico 0-0 Juventus, Juventus 2-0 Atletico. (Aggregate 2-0 for Juventus)
Cristiano Ronaldo celebrates an important win on his return to Old Trafford (Sportskeeda)
Schalke 04 – Manchester City (20/02, 12/03)
The final knockout game is one that is expected to go only one way. Manchester City will be clear favourites and after topping their group convincingly, they'll be looking to get past Schalke with ease who struggled in a fairly easy group. Regardless, Guardiola has struggled in Europe with Manchester City and was humiliated by Liverpool last season which no one expected. The only way for Schalke to get through this tie is to play without fear. They have to have a go at City and target their only real weakness, their defence. Manchester City don't generate the same European atmosphere as most clubs do so they won't have a huge home advantage. Schalke must take a first-leg lead and then hope to get an away goal or clean sheet at the Etihad but it won't be easy.
Predictions: Schalke 1-2 Manchester City, Manchester City 2-0 Schalke. (Aggregate 4-1 for Manchester City)
David Silva scores a late winner away at Hoffenheim after a defensive mistake (The42)
Predicted Quarterfinalists: Roma, PSG, Dortmund, Ajax, Barcelona, Liverpool, Juventus, Manchester City
Those are my predictions for the Champions League round of 16 ties, let us know who you think will go through to the final 8 of this year's tournament. Tweet @AllOutFootball_ using #AOF