Written by: Siddesh Iyer  Follow @Sid10RedDevil
"The piano, the tune, the smile and the famous No.7 shirt at the Theatre of Dreams"
Yes , Alexis Sánchez to Manchester United is definitely a dream come true, both from the player's as well as the fans' perspective. El Nino Maravilla, as he's fondly referred to in his homeland of Chile seems like a perfect fit for the famous No.7 at Old Trafford, which has its own legacy and a sense of huge responsibility that comes with it.  Nevertheless, Alexis, with all his footballing prowess and "never say die" attitude is all set to charm the United faithful to his tune.
🎹 Ladies and gentlemen, please take your seats. Introducing #Alexis7…#GGMU #MUFC @Alexis_Sanchez pic.twitter.com/t9RIIx4mE4

— Manchester United (@ManUtd) January 22, 2018
This move to the Theatre of Dreams is a new lease of life for both Alexis as well Henrikh Mkhitaryan, who moved to Arsenal as part of this blockbuster swap deal between the two clubs. Professionalism and commitment is something that is inborn when it comes to Alexis, so much so, even the Arsenal manager, Arsene Wenger praised his former superstar as one of the best and very professional and committed when it comes to football. The move sees Alexis sign a 4-year deal at United on wages believed to be around £300000 a week (unlike the unnecessarily hyped figures in the media).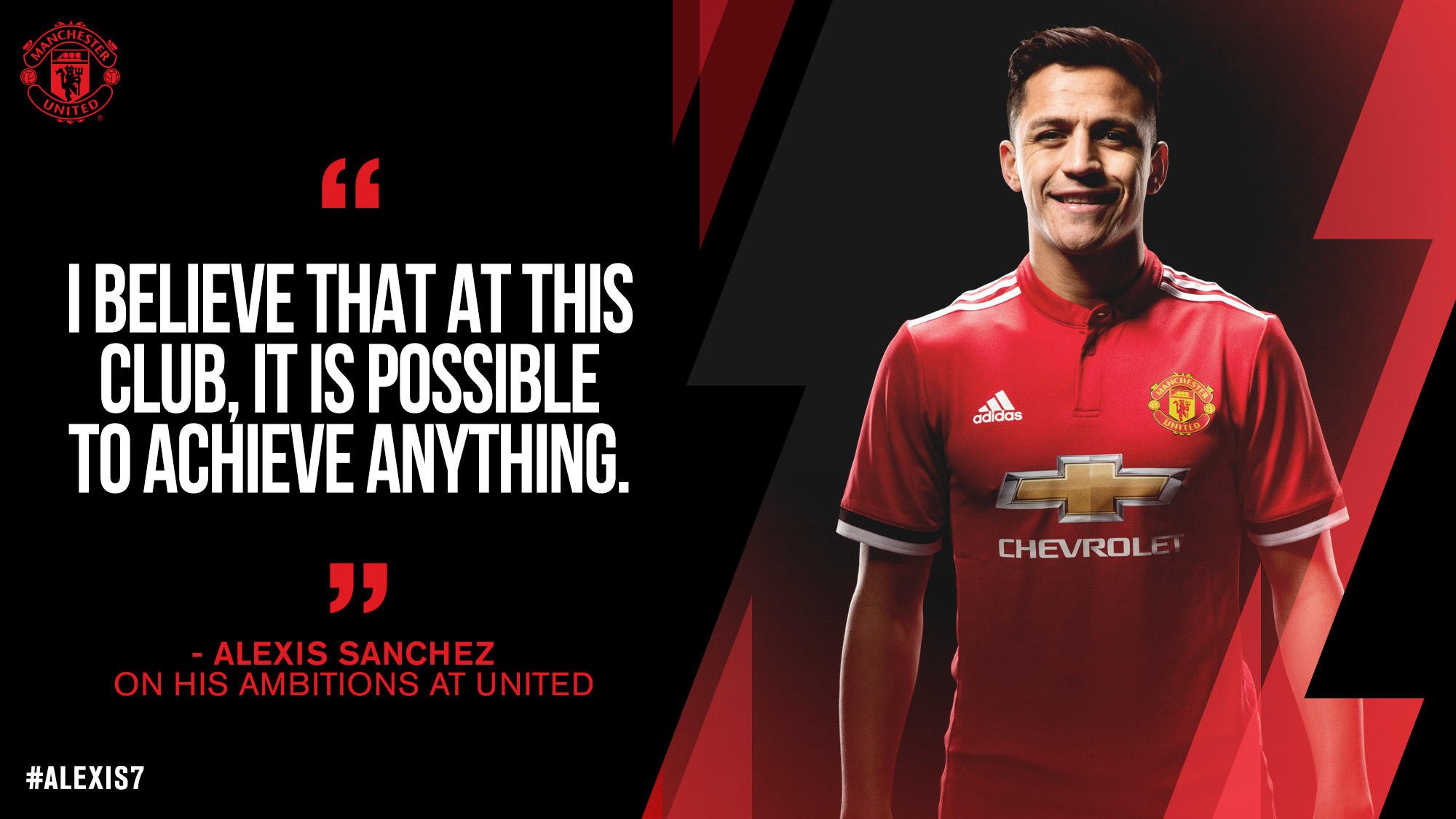 In terms of statistics, Alexis had a highly fruitful 2016/17 campaign with Arsenal scoring 30 goals in the process. This season, despite regular doubts over his future at the London based club, he had managed to rack up 7 goals and 3 assists before joining United. Josè Mourinho, the Man United manager, hailed his new No.7 as one of the very best in the world and one who'll offer a stiff competition for places in the United attack making it one of the best in the Premier League.
The real catch for United in this deal is that Alexis is eligible to play in the Champions League with United's Round of 16 game vs Sevilla just on the horizon. Alexis is just about the ideal player when it comes to taking a game by storm. He's one player on whom Mourinho can depend on, to provide an X-factor in the final third. The attacking trio of Martial, Lukaku and Alexis with Paul Pogba surging from midfield is a sight most defences in the world would be only too happy to avoid.
Finally, is Alexis a "Josè Mourinho" type of player? Definitely yes! Attacking with 100% intensity, tracking back, versatile and efficient wherever he plays. Exactly what the "Special One" sees in his "ideal" player. In all, it's exciting times at the Theatre of Dreams with a new No.7 set to charm Stretford End to his tune!
He said, "You'll enjoy Alexis Sánchez !"
Yes, we'll definitely ENJOY #Alexis7 !
What do you make of these thoughts? Let us know in the comments below!